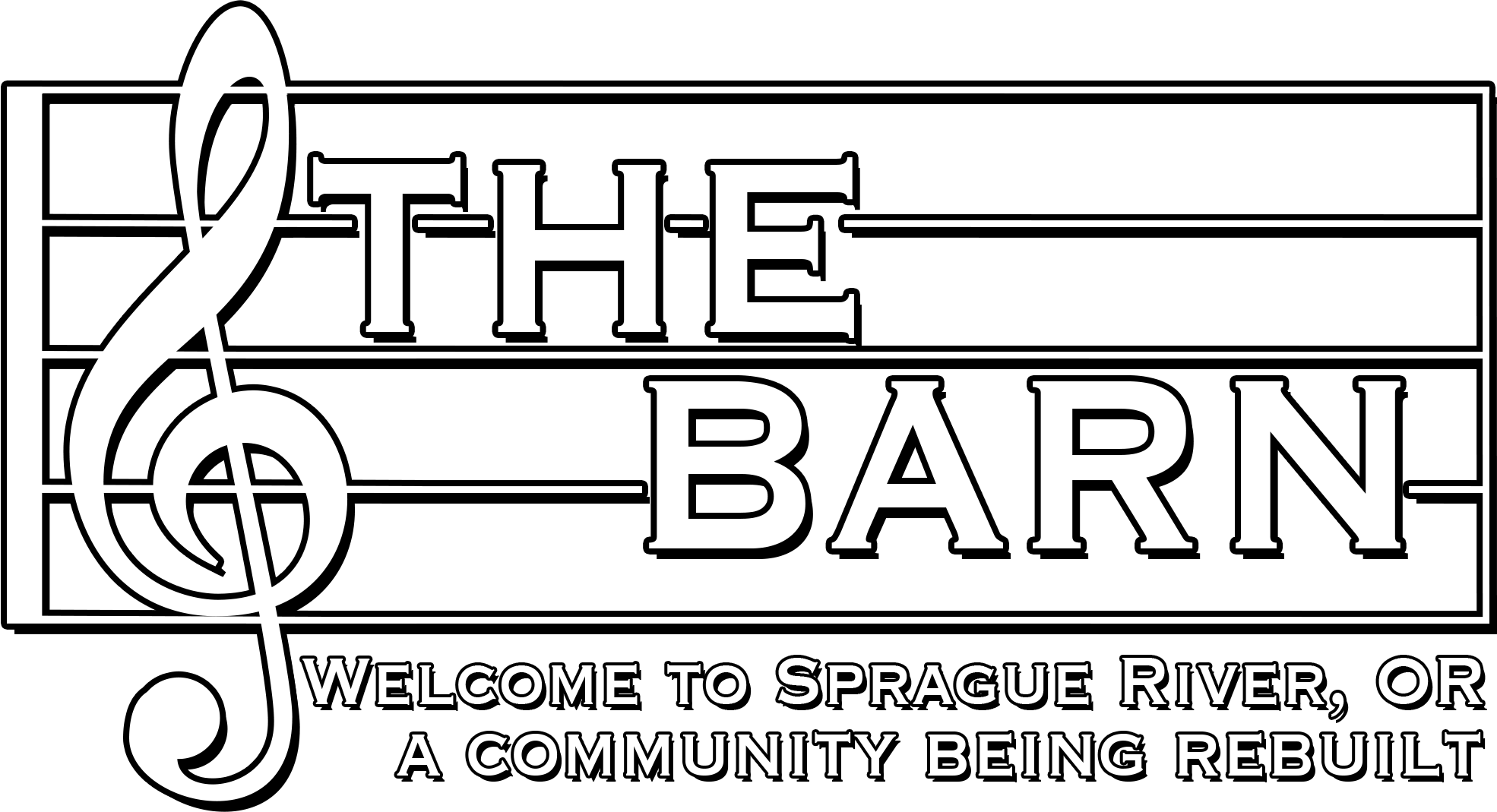 At The Barn, our primary aim is fostering growth within our community, both for children and adults. We're dedicated to creating a distinct identity for our community members through a diverse range of lessons and opportunities that The Barn can provide. Our mission is to nurture this community, helping it thrive and flourish, while also serving as a conduit for individuals to pursue their dreams.
We're committed to broadening our horizons beyond music, aiming to encompass all forms of art. Our overarching goal is to equip each artist, regardless of their chosen medium, with the fundamental tools and support needed to effectively pursue their dreams.
How We Reach the Community
At The Barn, we are deeply committed to connecting with and enriching our community through various avenues.
Through Sprague River Publishing, a small publishing house specializing in local authors, we aim to give voice to the stories and perspectives of our talented writers.
Sprague River Awakening, a vital part of Sprague River Publishing, collaborates with local churches to produce informative and engaging pamphlets. This partnership serves to educate and inspire, reinforcing the sense of community among our residents.
For the musically inclined, we proudly offer Sprague River Records, a small recording studio where local musicians can showcase their creative talents. We believe in providing a platform for artists to share their unique works and contribute to the vibrant cultural tapestry of our community.
While these three initiatives are already actively serving our community, we have exciting plans for the future:
Sprague River Productions will take the lead in the realm of filmmaking, expanding our creative horizons into the cinematic arts. Additionally, we're thrilled to introduce The Valley Gazette, a magazine tailored to the local area, bringing you stories, news, and insights that reflect the heart of our community, along with heartwarming stories from local contributors.
Through these diverse endeavors, The Barn is dedicated to reaching our community, nurturing artistic expression, and fostering a sense of belonging among our residents. We invite you to join us on this creative journey and be a part of the vibrant culture we're building together.
A Glimpse into Sprague River's Past
Sprague River, Oregon, traces its roots back to 1923 when it came into existence with the establishment of a solitary post office and a mission church. This church, built through the collaborative efforts of Modoc Indians and missionaries from the Friends Church, represented the foundations of a community that would go on to experience remarkable changes over the years.
During its heyday, Sprague River witnessed a significant population surge, thanks to the thriving local timber industry. However, as the industry reached its zenith, the community gradually faded into obscurity.
Today, Sprague River stands as a testament to its history, with only a handful of essential establishments remaining – a gas station, feed store, post office, church, and library. The community, once vibrant and bustling, has sadly fallen into a state of decline.
At The Barn, we are driven by a deep commitment to breathe new life into Sprague River. Our mission is to rekindle the spirit of this community, inspiring both newcomers and longtime residents with our unwavering passion. We believe in the potential for renewal, and through our diverse creative endeavors, we aim to revitalize Sprague River, forging a brighter future for all who call it home.
The Barn was founded by Joseph Bergstrom, a man deeply rooted in the Sprague River Valley. His connection to this region runs through his family's history, with his father, Eric, making the bold move into the mountains around Sprague River in 1979.
In 1979, when Eric ventured into the mountains, he found himself in a remote setting where the closest neighbor was four miles away, and the so-called "road" to town was often impassable for at least four months of the year. Despite the hardships, a resilient community endured there, and Eric quickly felt at home among its members.
When Joseph was born, the neighbors were closer, and the roads somewhat improved, but much of the landscape and community remained as it had always been. He grew up in the echoes of a fading community, where the old-timers either moved on or passed away, and the vibrant community he remembered as a child slowly faded.
Now, as an adult, Joseph's vision is clear. He aspires to rekindle the sense of community he vaguely remembers from his youth, and to inspire and build a community that his daughter can be proud to belong to.
Co-founder Charlaina Bergstrom (née Johnson) shares a strong commitment to community development. She once harbored dreams of establishing an at risk youth camp in the Pacific Northwest, but different circumstances led her to Sprague River, where she believed her dreams might no longer be possible.
However, after meeting Joseph and learning about The Barn, she fell back in love with the dreams she had been forced to give up on. Charlaina believes that The Barn can be the catalyst for realizing her dream of making a positive impact on the community she now calls home.
Supporting The Barn is a meaningful way to contribute to our mission of revitalizing the Sprague River community. There are several avenues through which you can help us make a difference:
Monetary Donations: Making a financial contribution is one of the simplest and most impactful ways to support The Barn. You can send a check made out to "The Barn" to our mailing address at P.O. Box 91, Sprague River, OR 97639.
Material Donations: We also welcome material donations that can assist us in various aspects of our work. For inquiries about material donations, please reach out to us at (541) 337-7952.
Online Platforms: The Barn is accessible on modern digital platforms, including Venmo,

PayPal

, and Cash App. You can make secure online donations through these platforms, making it convenient for you to contribute to our cause.
GoFundMe: The Barn is currently running a small, limited fundraiser on GoFundMe to support continued day-to-day operations, and to allow the community to be continually reached by more and more avenues.
By choosing to donate to The Barn, you play an essential role in helping this small community grow and thrive once more. Your support allows us to continue our efforts to inspire, build, and create a brighter future for all who call Sprague River home.
Will you dare to dream with us? Your generosity makes dreams a reality.